EARL OKIN'S SECOND GERMAN PAGE
(To get the full background, go back and look at his first page about Germany and Berlin)
---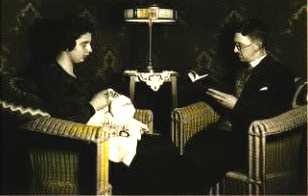 Typical German married couple having fun at home...
---
If you want to have much more fun than this and you live anywhere in Germany (or even Holland), look out for this poster. It'll mean that Earl is performing somewhere near you very soon!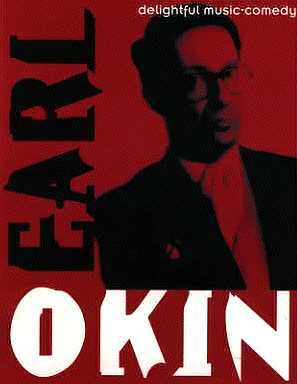 Earl is on the cusp of working with a new German agent.
Watch this space!
---
AND NOW...EARL SPEAKS!!!
---
Well, I performed once more at the Koeln Comedy Festival.
This takes place in the beautiful city of Koeln, of-course (that's Cologne to foreigners). Famous for its smell (What!? Never hear of Odour Cologne? Alright, please yourself), this is what it looks like at night from the river...when it hasn't flooded, anyway...
This time not only did I perform at the final Galas in Koeln itself but also, a new innovation...The Koeln Comedy Festival completely at sea!
Yes, while comedians were being violently sea-sick, they had to entertain lots of happy Germans (equally sea-sick) on their favourite luxury-cruise ship, the AIDA.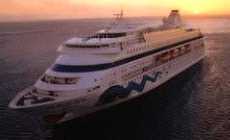 ---
I'd like to introduce you to just SOME of the incredible acts alongside whom I've had the pleasure to perform. They're all performing regularly at Variety Houses and theatres all over Germany right now...
---
THE KGB CLOWNS
---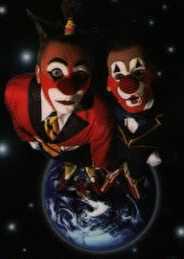 These two amazing young clowns come from the rigorous circus disciplines of old Soviet times, but on to this they've grafted a very modern Western imagination. They actually come from the Ukraine, originally. The two pieces they performed when I was so impressed by them varied from a disco 'dance-track' to a more traditional piece based on one or them becoming a motionless puppet and the other manipulating this 'inanimate' mannequin.
The variations on these simple things show such imagination and skill that you don't know whether to admire the skill or the comedy first. Forget circus clowns as you may know them in British circuses. These people are clown-geniuses!
---
THE ART OF MOUTH
---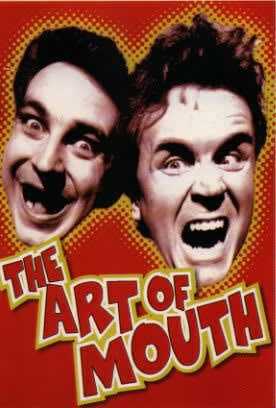 No, not the title of Monica Lewinsky's forthcoming book but two comedians who rely on their own mouths plus their microphones only to create complete sound-worlds, whilst with a great feeling for mainly physical comedy. They are one of the best vocal mimics of dance-tracks around although going on to destroy the whole genre through ridiculous exaggeration. They also have fun destroying the myth of the 'cool' Jazz trio too!
There's a wonderful sketch about getting a sports-car to start, various other forms of machinery and they seem to be able to invent all sorts of vocal sound-effects at will.
In a way, they resemble the British comedian Chris Luby, but don't do all the military nonsense that he does, so maybe they should do a show together!
Like many other artists in Germany, you really have to SEE (and of-course HEAR) them to get what we're talking about them. They are based in the North of Germany.
On their card, they describe themselves as what translates as 'Two nutcases; one sound'
Though that cartoon of them is nearer to what I do with my 'vocal trumpet'.
---
---
KAI EIKERMANN
---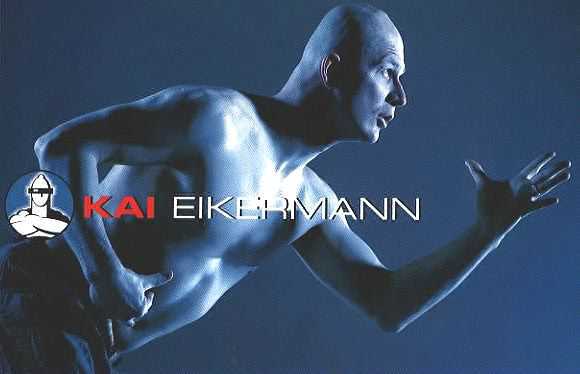 Imagine, if you can, someone built like your architypal German secret policeman, head shaved. Imagine that head shaped so that, (as Kai himself admits), he could have been cast for the cult comedy-film 'Coneheads' without any need of make-up. However, forget the stereotype. Born in East Germany, Kai grew up in Ghana of all places and tends to speak his fluent English (he holds 'A' grades in various GCE subjects) with an African accent! What he says in that accent, by the way, is generally hilarious.
Moreover, he learnt from his African playmates to become a world-class break-dancer. When you also discover that he plays the Didgeridoo expertly, you can imagine that his physical style of comedy is quite unique! Earl is proud to share the bill with him in the 'United Slapstick ' 2002 tour of Germany.
---
MARIO ECARD
---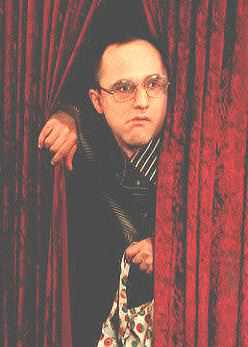 Sharing the 'United Slapstick' bill with Earl and Kai is the ultra-versatile Mario Ecard. Although he is a Jazz singer, Mario is best known for his array of 'characters', with meticulously planned costumes, voices and material to match, though perhaps his best-known character is that of the architypal 'Ossi' (EAST German), complete with the fashion disaster of all that Communist Germany had to offer during the 1970s, known as Ronald Hartmann. There's also his over-enthusiastic German Jazz Fan complete with bright orange suit and, thanks to working with Earl, has now developed a Swiss professor who behaves like Dr. Strangelove and is a one-armed ukulele-player!
---
LONELY HUSBAND
---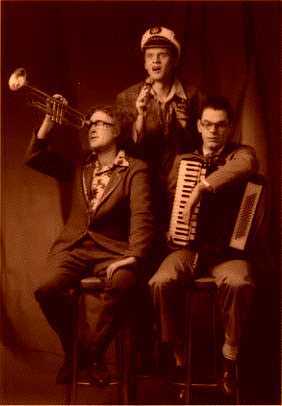 Here is another threesome who are quite mad and do a sort of high-energy music-and-comedy show. I particularly liked their sketch about translating English into German badly (and vice-versa). Actually, they're nor particularly 'Lonely' at all and none of them has ever been able to give me a lucid story of how they decided on their name. One, at least, is the proud father of a baby and carries it around with him! Goodness knows how he/she will grow up...
---
---
UNSERE LIEBLINGE
(roughly translated as 'Our Darlings')
---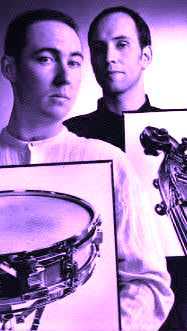 These two novelty singers/musicians demonstrate what 'drum & bass' really means. With a repertoire of over a hundred songs in varying styles from Jazz, through the 50s, 60s and 70s to hits like 'Kiss', they manage with nothing more than a double-bass, snare-drum and cymbal together with their voices to make you think there's a whole band playing.
Although they can be very funny at times, this is primarily a music-act, both original and talented.
They come from Muenchen (Munich). A great act!
---
---
DIE MAIERS
---
These two trapeze and balance-acrobat artistes, whom I saw perform at the Chameleon in Berlin, have found a brilliant way of making trapeze work not only rivetting but hilarious. They are the architypal example of artistes whose act you just can't describe but have simply to say...
'You just have to see them!'

---
---
PETER SHUB
---
Last, but not least of this quick introduction to comedy in Germany is a bit of a cheat, for Peter Shub really comes from Chicago, but he's lived in Germany for years and his wonderful style of mime-comedy is much more Continental than American in style.
.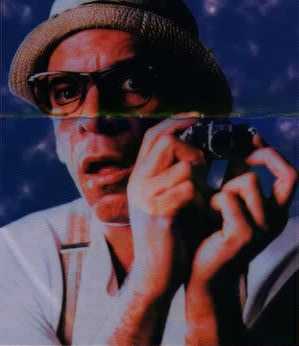 (Incidentally, although Peter does look like this, in real life there isn't a green line going through his head)
I particularly love two of his routines, one with the tripod which goes with the camera you can see in the picture. You have no idea what you can do with a tripod until you see Peter's show.
(In case you were wondering, it's totally legal).
The other involves a dog on a lead, except that there's no dog.
(Well, work it out for yourself or see his show!)
---
Of-course, although all Germans love to enjoy themselves, not all Germans like comedy.
Some prefer to...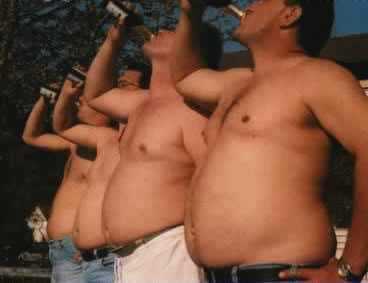 and, when they've done enough of that, they might even...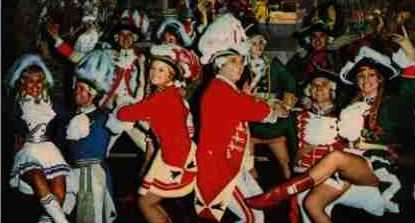 Frightening, isn't it....
---
On the other hand, this is what happened after one of Earl's performances in Germany. Earl thinks they got a bit carried away after he performed his 'SAFE GROUP SEX SONG'...