EARL OKIN in BELGIUM & HOLLAND
---
STOP PRESS
Here's a link to a clip of video of Earl singing one of his original Jazz songs on Belgian TV recently.
http://www.delaatsteshow.be/video/files/268/breed.wmv.
---
Earl Okin has performed in Belgium and Holland for years with great success. Back in the 70s, he would tour small acoustic music clubs but it was after a gap of a decade when he was invited to tour as special guest in a gala show calle REVU, hosted by the Flemish Comedy & Music trio DE NIEUWE SNAAR, that Earl realised how well his style of performance was being received in Belgium and Holland, where he would come under the classification of 'Cabaretier', equivalent to 'Klein Kunst' in Germany or 'Café Theatre' in France.
After 157 shows with DE NIEUWE SNAAR...(here he is on stage with them)...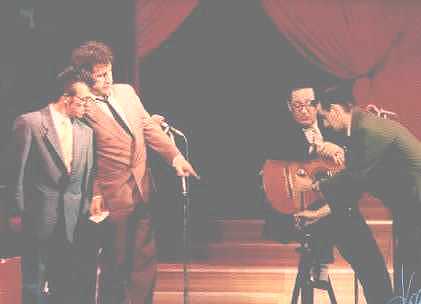 ...which took Earl to just about every medium to large size theatre in Flemish Belgium and Holland, Earl was invited to a couple of Comedy Festivals which he really enjoyed.
He was also recently invited to perform his OWN show at some of the very same theatres that saw him first in REVU and his shows were as well-received as his guest spots in REVU had been...
---
(This is the programme cover of one of the aforementioned Festivals; this one in Kortrijk. Another was in Eindhoven, in Holland)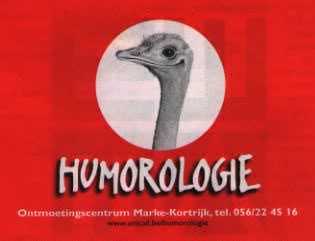 ---
Apart from performing for fellow-performer Gili at his little club at Stasegem-Harelbeke on the Belgian/French border De Trukendoos (The Box Of Tricks)...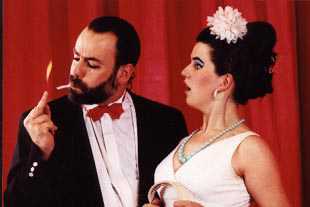 (by the way, this is a picture of the suave but very silly magician Gili with another of the performers on the Nieuwe Snaar tour, Jodoke of the Trio Grande, who is just as silly as he is)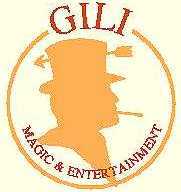 If you'd like to see Gili's WEBSITE, click on his logo above, but always remember to come back HERE afterwards!!!
---
Returning to Holland, Earl recently undertook a Comedy tour organized by The Comedy Cafe, Amsterdam in conjunction with Mojo Agency and Lucky Strike. He was received so well that none of the other acts on the bill wanted to follow him, so that he became the instant 'headliner'. Following this success, Mojo have already featured him on TV shows, their own Comedy Festival in Den Haag (The Hague), a solo show in Rotterdam and, with his other musical hat on, at the world-renowned North Sea Jazz Festival, alongside some of the world's most prestigious Jazz musicians.
Watch this space...
---
One other thing. A couple of years ago, at the Edinburgh Festival, Earl was approached by a Dutch lady who gave him her card and asked him to perform at a series of performances at her home, which she would transform temporarily into a little theatre. This was no ordinary Dutch lady, however. Her name is Xaviera Hollander, once famous as 'The Happy Hooker'. Naturally, as 'Musical Genius and Sex symbol', Earl was the perfect choice fopr her series. He's now performed there twice, but he refuses to tell me what happened when he stayed overnight at her house...
This is the card she sent out to her mailing list. I suppose this is how Andy Warhol would have seen Earl.
Xaviera, when this picture was taken, was still known as The Happy Hooker. From there, to use her own words, she went to The Happy Cooker, and now she's interested in entertainment and has become The Happy Booker. To find out about her current projects, just click on the picture of her above, but DO come back here afterwards!
---
RETURN TO WELCOME PAGE
---
---