EARL AT THE NORTH SEA JAZZ FESTIVAL - 2001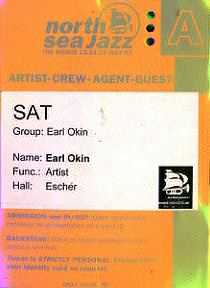 ---
If you ever have an opportunity to organize a musical event, invite Earl
Okin - spats@spats.demon.co.uk - British; a great musician and showman. It
had been a long time since I witnessed an artist win a crowd's favours in
two minutes. Earl only had fifteen, so he had to!
This happened last night at the North Sea Jazz Festival in The Hague. His
music? You have to find this out for yourself. He sings (with a beautiful
voice, perfect for the Brasilian/Jobim type of Bossa Nova songs he does). He
plays guitar and piano. (He didn't play piano at North Sea, but I have his
Pitter Panther Patter and Blood Count on CD. Brilliant. Delivering the
message, with good taste and ample technique).
A real treat is his 'voice trumpet': he can make those fantastic sounds that
helped make the Mills Brothers famous. Earl's inspiration here is clearly
the early Ellington horns. He can do an astonishing Whetsol. But he also did
a brief Cootie, Brown and Bigard. Earl's instrumental imitations are to my
ears art - not just 'funny' or a novelty-type trick. They're too good for
that. It's quality, for lack of a better word. How to incorporate Ellington
in your music and make it work? Check out Earl.
And yes, he does wear spats in public.
Loek Hopstaken.
(Duke-lym DUKE ELLINGTON LIST)