---
EARL OKIN

STAR OF GERMAN COMEDY
---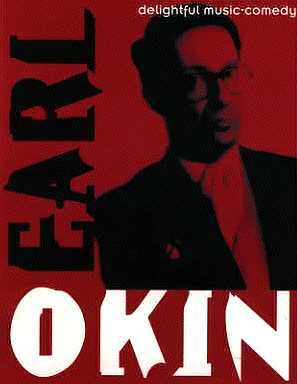 Wherever you live in Germany (maybe Holland too), watch out for this poster or something similar. It'll mean Earl is performing somewhere near you soon!
---
Some time ago, Earl enjoyed great success at Germany's most important Trade Fair for entertainment, the Freiburg Kunstboerse. Bookers from not only Germany but Switzerland, France, Belgium and Austria too were queueing up to get information on how to book Earl. However, he is on the cusp of signing up with a new agent in Germany, so please watch this space.

---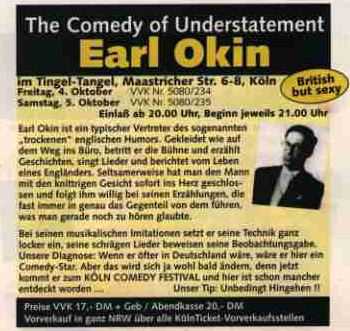 ---
EARL'S HISTORY IN GERMANY
It all started when Earl was seen in Edinburgh by the Cologne Comedy Festival (see picture from the programme above) AND one of Berlin's premier cabaret theatres, BAR JEDER VERNUNFT (see below). As well as doing his live show at the Koln Comedy Festival, Earl was also included in BOTH their one-hour TV Galas on RTL and proved one of the big hits of the Festival. Bar Jeder Vernunft ended up by having Earl play there for a fortnight to sold out houses. As a result of this and other developments, Earl sold out in theatres across Germany, being stopped in the street continually for his autograph in places anywhere from Salzburg in Austria to Berlin, Cologne and Frankfurt etc...
---
During 1997, Earl played radio and TV for the WDR and RTL, including Germany's top comedy show, Samstags Nacht, whilst in 1998 he performs at the Berlin Comedy Festival, a return to the Koln Comedy Festival (Galas and Mediterranean Cruise) as well as having a full 30mins. on the Hessische Rundfunk's Traumtanzer series, as well as various venues throughout Germany. 1999 saw his success at the Freiburg Kunstmesse, lots more concerts throughout Germany and ahit performance on Bayerische Rundfunk's Cabaret TV show Ottis Schlachthof!
---
What follows is a typical example of the sort of write-ups Earl receives in Germany. It was quoted in the Bar Jeder Vernunft's own brochure...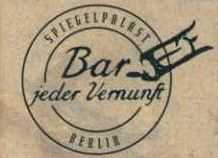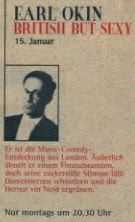 ---
Er ist die Music-Comedy-Entdeckung aus London.
Auserlich ahnelt er einem Finanzbeamten, doch seine zuckersusse¨Stimme last Damenherzen schmelzen und die Herren vor Neid ergrunen.
---
Rough Translation...
He is the music-comedy discovery from London.
He may appear like an accountant but his honey-sweet voice melts women's hearts and makes the men green with envy.
NB...We even typed the English translation in a German accent!
(Pretty clever, eh!?...)
---
Any entrepreneur, festival organizer or venue booker in Germany (or anywhere else in the world, for that matter, can easliy contact Earl by returning to Earl's home page and e-mailing him or 'phoning the number given there...
---

From the series 'Interesting Things To Do In Austria & Germany'.
---
SHOCK REVELATION!!!
Elvis lives! Yes, here he is, alive and well and living in Germany...
...maybe....
---
TRIVIA
If you REALLY want to find out how a cousin of these two parrots (called Coco) once took a leading (and unplanned) part in Earl's one-man show in Cologne...or in this case, one-man and one parrot show...e-mail Earl.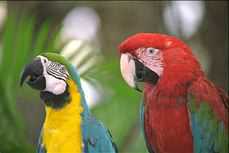 ---
...because he's very artistic...
---
BACK to EARL'S Home Page
---
PS We've also got stuff about Earl in France, (Oh yes! He's performed there too, AND in French!), but there's not enough room on his page and we haven't got time to translate EVERYTHING for you! Then again, he's performed at Comedy Festivals in Holland and Belgium, such as this one...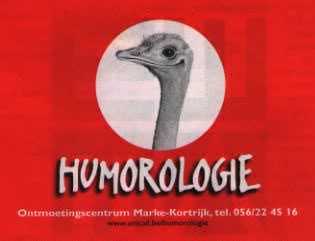 ---
BERLIN MITTE
Earl speaks...
---
Berlin Mitte, or Central Berlin was for years in East Berlin but in less than 10 years has become a bubbling centre of German Cabaret.
There's the Traenenpalast...

(The Palace of Tears, so called because it was for years the Checkpoint Charlie border equivalent for Germans)...and this is what their brochure said about me. I hope it's good. Translation please, anyone...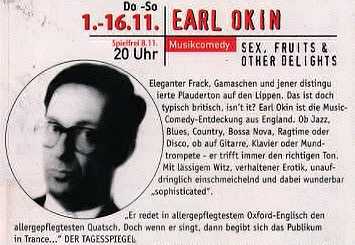 ---
The Chameleon
(...a lizard that changes colour. Goodness knows why it's called that, but the Variety Show there is FANTASTIC!)...
I also appeared at their Berlin Comedy Festival this summer...
---
The Kalkscheune...
(This means something like the Chalk Barn. No...I haven't got a clue why it's called that, but it's possibly my favourite of all the Cabaret spaces in Berlin Mitte, which is saying something!).
I've appeared here on as part of their cabaret shows AND with Evi Neissner and Mr. Leu. (see below)
---
Oh yes, just under a mile away is...
The Gruene Salon...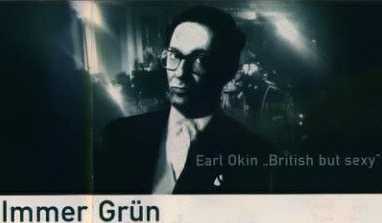 (The Green Room), again a wonderful cabaret-space with that hint of nostalgic decadence that makes the atmosphere perfect...well, certainly for my show anyway!)
---
VENUES OUTSIDE BERLIN
---
Of-course, I've been performing in lots of other places outside Berlin.
Here are just four examples of venues that I've had the great pleasure of visiting several times...If you live in any of these cities, why not give them a call and find out when I'm back there...
MUENCHEN (Munich): Lustspielhaus.
This is a converted cinema, I've been told. However, it's been done so well that you could swear that it's been a restaurant-theatre since the 1800s! It seats several hundred people all at little tables and before the show you can order a meal. The food is wonderful!
This is how they described Earl's show...
British But Sexy.
In this programme the but is the essential word and Earl explains why. Behind his glasses, his eyes are burning, rich with desire and inspiration. By the way, he always attracts a remarkably large female audience...
With tender Bossa Nova rhythm and genius trumpet solos, (did anyone see the trumpet?), Earl Okin guarantees a delightful evening. come and see Mr. Okin on stage, (or, ladies, backstage during the interval), and relax in a spicy but cosy atmosphere.
---
STUTTGART: Rosenau.

This is also a Restaurant-Theatre with great food, but much more informal with a very clever internal architectural feature to separate the bar-restaurant from the performing area. You can actually see the Rosenau and look at the great menu by clicking on their logo just above!
(Don't forget to come back, though!)

Yes, I have that mysterious look. Mind you, it could just be indigestion...
---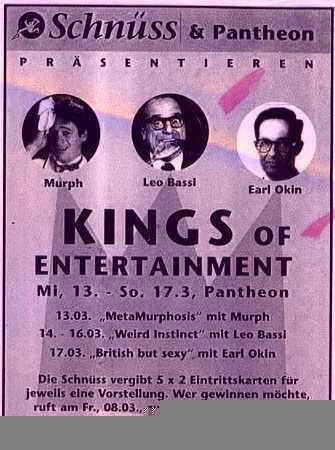 The Pantheon, on the other hand, is more like a normal theatre...
---
Last, but certainly not least is...
HOECHST (near Frankfurt): Neues Theater.
This is a theatre for several hundred people in Hoechst, a charming suburb of Frankfurt. Not only have I had completely sold out audiences here, but I had some people dressing up as me in the audience. Naturally, I can't wait to get back!
---
EVI NIESSNER & MR. LEU
---
Among the wide selection of talented artistes in Berlin, some humorous, some musical, others with amazing circus skills, is Evi Niessner and Mr. Leu who have helped me in so many ways to develop my career in Germany. I first encountered Evi doing just about the best Edith Piaf homage I've ever seen, but she's moved on and does all sorts of different musical shows now accompanied almost always by her partner and piano-man, Mr. Leu, sometimes even including my songs! If you'd like to see more about her, do go along to her site and find out all about the German Cabaret and Kleinkunst scene...
Just click on her picture....but do hurry back afterwards!
---
---
Return to Earl's WELCOME PAGE
---